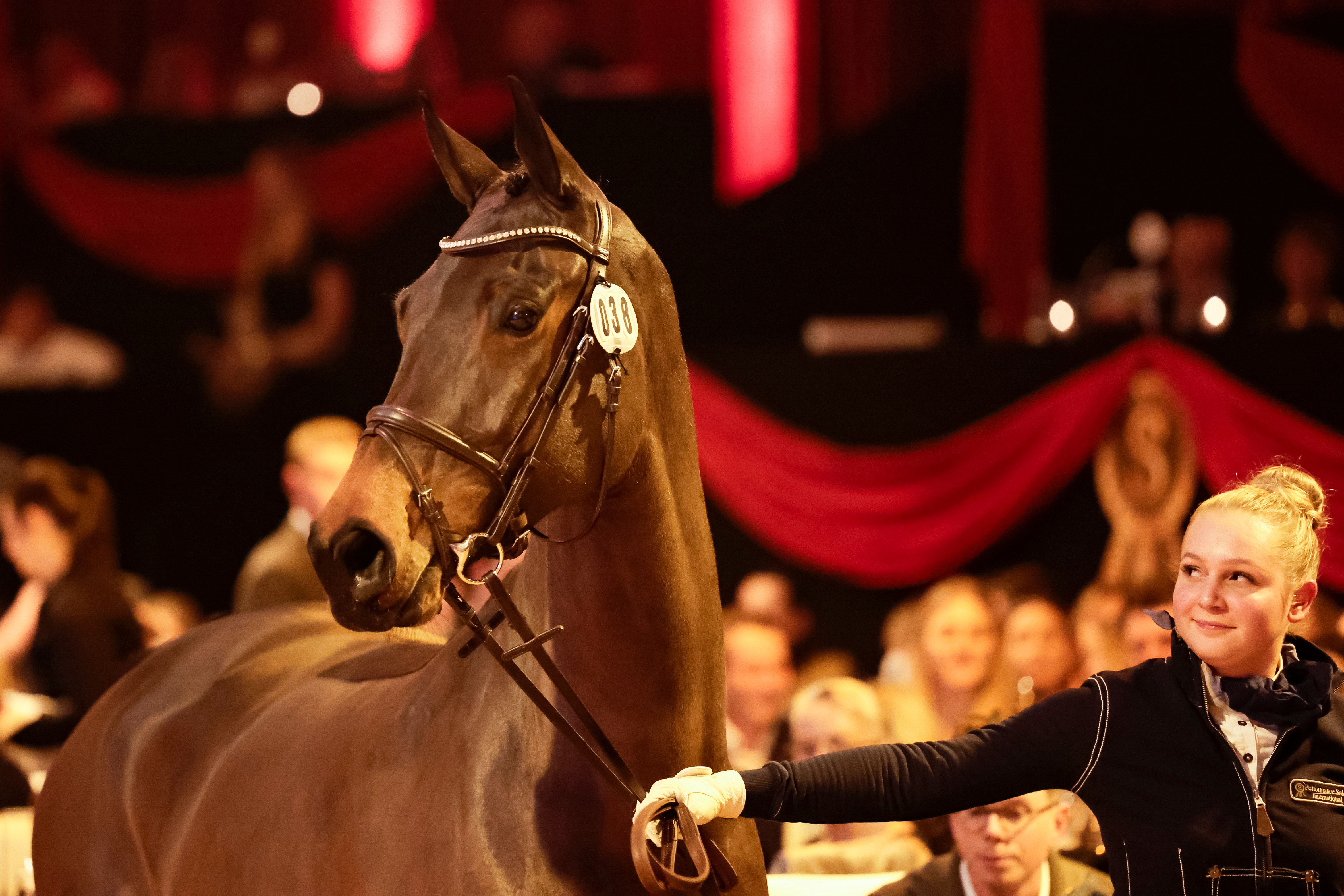 11 Dec

43rd P.S.I. Auction: Super talent Chyazint jumps into the record books

Ankum — When tradition meets modern sport horse breeding, when people fall in love with horses and dreams come true, then it can only be the one and only P.S.I. Auction in Ankum. Already the fourth horse of the 'Order of Sale', the Casallco daughter Chyazint set hearts racing when selling to the Auer family for an unprecedented, sensational top price of 4.0 million Euros. It was the highest price ever attained by a horse in P.S.I. history. "This is an unbelievable result," Paul Schockemöhle said after the new record sale of one of his show jumpers. "Chyazint is an absolute super talent, one of the best horses we have seen in all these years. Under the expert guidance of Swedish rider Ebba Johansson, she has developed into a truly absolutely exceptional jumper. The best riders in the world have tried to win this mare for themselves and I am sure that she will soon play a role in top international sport and at championship level."

The 43rd P.S.I. Auction was one of the best auctions, the P.S.I. founders Paul Schockemöhle and Ulli Kasselmann agreed soon after. Total proceeds of 22,992,000 Euros for a total of 50 horses justified the two businessmen and breeders in their feeling. Besides the record-breaking mare Chyazint, catalogue number 5, Fürstin Aura, also stood out. The powerful moving black mare by Fürst Jazz – Don Schufro became the price leader of the dressage collection when she was knocked down for 1,050,000 Euros and changed hands into Belgian ownership. Catalogue number 35, LVS Vigo, a seven-year-old gelding by Vancouver, also cracked the 1,000,000 Euro mark. The dressage horses brought a total of 9,337,000 Euros with an average price of 373,480 Euros and the show jumpers 13,655,000 Euros with an average price of 546,200 Euros. 

Unrivalled in the sport horse market

This year's collection excelled with a lot of young sport horses of outstanding potential and best bloodlines. 25 dressage and 25 jumping youngsters were offered for sale and auctioned with flair and expertise by auctioneer Hendrik Schulze Rückamp. 600 guests enjoyed the festive atmosphere at the P.S.I. Sport and Auction Centre in Ankum. The buyers were international, including many loyal regulars who appreciate the high quality, the generous customer service and the personal relationship with Hof Kasselmann and Stall Schockemöhle. 

The philosophy of Performance Sales International meets the buyer's demand and is unique in the sport horse market. " Especially loyal customers rely on the relationship of trust à la P.S.I. — a factor that is more important than ever, especially in these times", Ulli Kasselmann concluded. "Our customers know that in most cases we have known the candidates in the P.S.I. collection from birth and appreciate their good upbringing as well as their initial training." The Lewitz and Osthoff studs consistently produce exceptional sport horses such as this year's top performers. Looking to the future, Schockemöhle and Kasselmann are also confident that they will be able to come up with another top-class collection next year.

P.S.I. Awards for Wim Schröder and Uwe Heckmann

Two deserving personalities of equestrian sport were honoured with the traditional P.S.I. Award, a crystal figurine from Swarovski, during the 43rd P.S.I. Auction. The Dutch show jumper Wim Schröder was honoured in the category Sport. The P.S.I. Award Lifetime Achievement went to a living legend — star auctioneer Uwe Heckmann. More information to follow.